A Guide on How to Renew Your Singapore Re-Entry Permit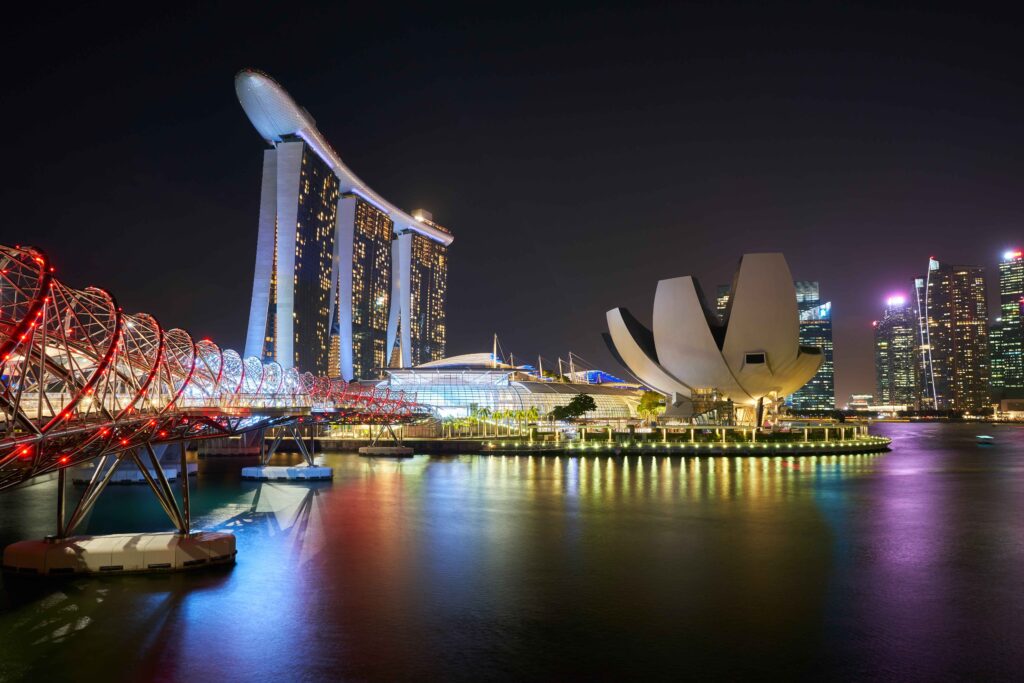 Singapore has long captivated visitors and immigrants from all around the globe. This island city-state, located at the southern tip of the Malay Peninsula, is a thriving cosmopolitan that embodies a vibrant blend of culture, cuisine, arts, and architecture. It's known for its cultural diversity and robust economy and is home to approximately 538,600 Permanent Residents (PRs). For a Singapore PR, it's vital to understand the process and requirements to renew his/her Singapore Re-Entry Permit. But before that, let's look into why people love Singapore.
The Lion City - A Top Destination for Vacations, Work, and Migration
In Singapore, an array of captivating attractions awaits visitors. From the awe-inspiring architectural wonders of Marina Bay Sands and Gardens by the Bay to the rich cultural tapestry of Chinatown, Little India, and Kampong Glam, many offerings cater to diverse interests. Families and thrill-seekers delight in the world-famous Singapore Zoo, Night Safari, and the picturesque Sentosa Island featuring the captivating Universal Studios amusement park.
It shines brightly as a prominent epicentre for global trade and finance; its thriving economy and favourable business climate attract many multinational entities. Job opportunities unfurl across diverse sectors, encompassing finance, technology, and biology. Enveloped in an open legal framework and fortified by steadfast protection of intellectual property rights, Singapore emerges as an alluring realm for business ventures and innovation. Accomplished professionals worldwide find themselves irresistibly drawn to this cosmopolitan haven.
For those considering becoming a Singapore Permanent Resident, the city's high quality of life, top-tier public amenities, and cosmopolitan ambience are an appealing prospect. The government's unwavering dedication to maintaining social harmony and security, coupled with remarkably low crime rates, fosters a safe and stable environment for individuals and families. Migrant children are privileged to receive an outstanding education from Singapore's esteemed school system. Moreover, the nation's embrace of diverse languages and cultures fosters an inclusive and open society.
The Lion City's unique combination of Eastern traditions and Western innovation, economic prosperity, and cultural diversity make it a magnet for vacationers, working professionals, and immigrants alike. So, if you are a Singapore Permanent Resident, this comprehensive guide will discuss the requirements for renewing your Re-Entry Permit (REP) in Singapore. REP is a crucial document to preserve your status as a Singapore PR while you are travelling outside Singapore.
Understanding the renewal requirement, procedures, paperwork, and deadline is essential to ensuring a smooth and successful REP renewal, whether this is your first time of renewal. This guide will provide you with all the information you need, from qualifying requirements to detailed steps for renewal of REP. So let's go into the specifics of Singapore's REP renewal requirements.
What is a Re-Entry Permit?
A Singapore PR must have a valid REP to keep his/her Singapore Permanent Residence status while they travel out of Singapore. Maintaining the validity of the REP is essential for every Singapore PR.
Why You Need to Renew Your Singapore Re-Entry Permit
A Singapore PR must ensure his/her Singapore REP is valid when leaving Singapore and also when remaining overseas. You risk losing your Singapore PR status if your REP has expired while you are travelling overseas. Therefore, you should always renew your Singapore REP before its expiry.
How Long Does Re-Entry Permit Remain Valid?
Although your Singapore PR status offers permanence, the REP attached to it does come with an expiration date, necessitating renewal to maintain its validity. Typically, the Immigration & Checkpoints Authority of Singapore (ICA) grants five-year validity period for a REP. However, this is subject to your ability to demonstrate continued residency in Singapore and undergo an assessment of your contributions to the nation's economy and society. It's essential to bear in mind that there exists a possibility of your online REP renewal application being rejected by ICA or your REP being renewed for a duration shorter than the standard five years.
Requirements to Renew Re-Entry Permit in Singapore
The process of renewing a Singapore REP might seem complex, but by taking note of the following points, you can simplify the process.
1. Validity of Your Current REP
You should submit your online application for renewing your REP when your current REP is still valid (within 3 months before the expiry date of your current REP). Hence, it is important that you remember the expiry date of your current REP.
2. The Necessity of a SingPass
You need a valid SingPass to apply online through ICA's e-Services to renew your REP. This personalized account ensures your online safety and security. If you do not have one, create a SingPass account on the SingPass website, complete the necessary information, and follow the verification steps. After the registration, you'll have your SingPass ready for use.
Ensure the re-entry permit's renewal is accomplished within three months before the current REP expires. ICA has given the three-month time frame for ample processing time, effectively getting rid of last-minute issues. Take note of your REP's expiry date and set a personal deadline for submitting your renewal application timely.
4. Payment of the Re-Entry Permit Fee
On the official website of ICA, you can see the information on the fee payable for your REP renewal. Currently, a S$10 fee is payable for every year, or part thereof, of your approved REP. For online application, you will need to pay the fee within 14 days of the approval date or your REP renewal application will be withdrawn. 
While applying online at ICA's e-Services for renewing your REP, you are not required to submit any documents, unless requested by ICA. If ICA requests documents for your REP renewal application, you will receive an email from ICA. Upon receiving ICA's email, you will need to prepare the documents listed in ICA's email and then follow ICA's instructions to upload those documents via ICA's e-Services.
How to Renew Your Re-Entry Permit Online
You should submit your online application for REP renewal through ICA's electronic REP system at ICA's website. The procedure is simple and easy to follow as long as you have a valid PR status. During the application submission process, you will need to fill in the information required in the REP renewal online application form accurately. 
With the electronic REP system, it allows Singapore PRs to renew their REP online which means you don't need to apply in person at ICA. This brings great convenience especially if you are outside Singapore at the time when you intend to submit your REP renewal application.
However, in the event that your current REP has already expired when you would like to renew it (for example, you missed the renewal application due date for less than 30 days due to your oversight), you should submit your REP renewal application in person at the ICA office. Online appointment booking is available on ICA's website for that purpose.
REP renewal applications are normally processed within one week (excluding the day of submission). However, certain REP renewal applications may take longer to process. A small percentage of REP renewal applications may take up to six-week processing time.
Please refer to the FAQ session here for further information on the application for REP renewals.
What to Expect After You Apply For REP Renewal
Upon successfully submitting your REP renewal application, ICA will send you an email acknowledgement with the application reference number. During the processing time, you will be able to check the status of your application through "MyICA" e-Services (using your SingPass). If your REP renewal application is approved, an approval email will be sent to your email address by ICA. Upon receiving ICA's approval email, you will need to follow the instructions set out in that email to download PDF copy of your new REP. You may also wish to print out a copy of your new REP and put it together with your passport for safekeeping.
Experience the Unparalleled Expertise of Galactic Spark's Customized Immigration Consultancy Services
REP renewal is important for every Singapore PR. By adhering to the guidelines, you will be able to have a seamless renewal journey and steer clear of unnecessary complications. Bear in mind that if you leave Singapore or remain overseas without a valid REP, you will lose your Singapore PR status. Under that circumstance, you will be assessed for entry into Singapore as a foreign visitor, subject to prevailing entry requirements.
If you have concerns that your REP renewal application may not be successful (due to factors such as you have only spent a small amount of time residing in Singapore in the recent years) or your REP renewal application has already been rejected by ICA, you may wish to consult a reliable immigration consultancy service provider on your REP renewal matter. At Galactic Spark, we offer specialized immigration consulting services for people looking for a thorough understanding of complex immigration procedures.
Our founder is a seasoned expert in the sector with two decades of experience gained from a prestigious Singapore law firm and legal education in China and the UK. Our area of expertise is the expert handling of Singapore immigration applications, including Singapore Citizenship application, Singapore PR application (under the Global Investor Programme (GIP), the Professional, Technical Personnel & Skilled Workers (PTS) Scheme, or the Family Ties Scheme), Long-Term Visit Pass application, and renewal of Re-Entry Permits.
Galactic Spark stands out with its personalized and comprehensive services for those who would like to apply for renewing their Singapore Re-Entry Permits. We cater to the uniqueness of each client, tailoring our approach to meet specific needs. Our personalized strategies tackle immigration challenges adeptly. Check out our top-notch customer service and affordable immigration solutions. Contact us today!